BrainCert now supports adding Flash and iFrame contents in your content library. This applies to both E-learning Platform and Enterprise LMS product offerings. When you upload a flash file with SWF extension, content engine automatically detects the width and height of the flash file and embeds it. This new feature allows you to add interactive flash tutorials, animations, and CBTs as part of your course structure.


An Inline Frame (IFRAME/IFrame) is one of the most powerful elements in HTML. It is the ultimate modularization tool, allowing you to break up content, seamlessly display content from other sources, and better manage loading. The role of inline frames is actually quite simple – they allow you to display a second, separate webpage within your main webpage. The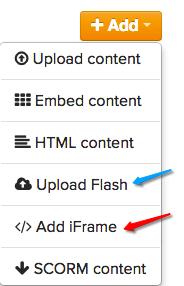 | | |
| --- | --- |
| Easily create and manage interactive blended courses online in minutes. The benefit of the blended approach is that it offers students the flexible scheduling and pacing of the online environment, along with the support of the face-to-face interaction using BrainCert's Virtual Classroom. | |
Unified Content Management
BrainCert Content Engine is a light weight document viewer and media player that supports HTML5, or Adobe Flash to maximize device and browser coverage. You can upload over 100 different document formats with ease and let BrainCert handle the mess of uploading and converting your files in to online courseware.



Useful links