To activate your LMS instance, login to www.braincert.com and click on the "Enterprise LMS" menu link from "App" top menu.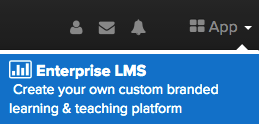 The direct link is https://www.braincert.com/lms/domain.
Type your desired domain name in the text field and click on the button "Activate domain name" to instantly create your own LMS sub-domain.

The system allows accessing your BrainCert sub-domain using both HTTP and HTTPS protocols.
For example,
http://mydomain.braincert.com (Or) https://mydomain.braincert.com
HTTPS allows secure connections using a SSL certificate. Read more at http://en.wikipedia.org/wiki/HTTPS.

NOTE: Follow this KB note to map your external domain name to your BrainCert LMS sub-domain.


Author
BrainCert
Date Created
2015-11-22 00:25:58
Date Updated
2015-12-19 10:34:51
Views
2632