E-Learning Platform


Enterprise LMS
After recording a live virtual classroom session, the recording will be available to view or download instantly. The newly designed "Recordings" dashboard is designed to list all your recordings in one centralized view to easily search or filter and share it with the outside world securely. You can also see the disk usage allowed under your subscription plan.
| | |
| --- | --- |
| E-Learning Platform | Enterprise LMS |
| Navigate to your new 'Recordings' left menu under "instructor" block in 'manage classes' page, you will be able to download the WEBM file of the recording onto your system or share it with your students privately using secure links. | In Enterprise LMS product, the new "Recordings" link is located under the "Virtual Classroom" left menu item for 'Super Administrator' users. Based on the 'Role' assigned to the 'Groups', this link can be made available to other users types. |

How to Edit, Delete and Download your Recording
Under "Options" column, you have the ability to edit, delete or download the recorded file.

How to Share your Recording securely
All premium users with a valid subscription plan can allow their users to share recordings using secure URLs rather then the direct file.
To share recording, simply click on the file name or edit icon under 'Options' column.
Clicking on the edit option will open a popup screen as shown below: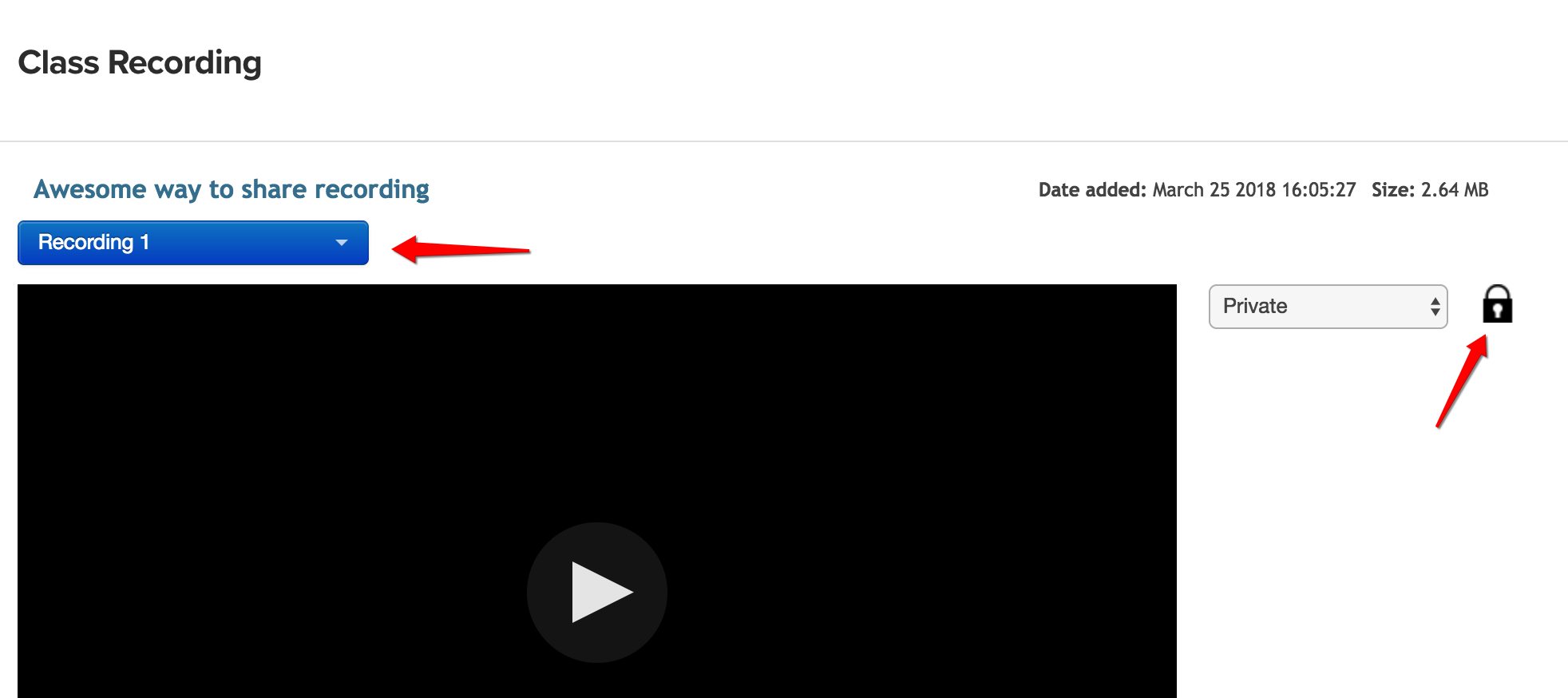 There are two possible Share Settings:
Private - The recording cannot be shared and can be viewed by the instructor only.
Public - The recording can be shared via URL and is open to anyone to view; with or without a BrainCert account.
By default, all your recordings are set to 'Private'. To share it with the outside world, you need to make it 'Public' and create a 'Share' link. The system will now generate a secure link that can be distributed easily to your attendees manually or via automated email. You can click on "Reset" anytime to invalidate the link and create a new secure URL to share. Move the slider to ON position to allow users to download this recorded file.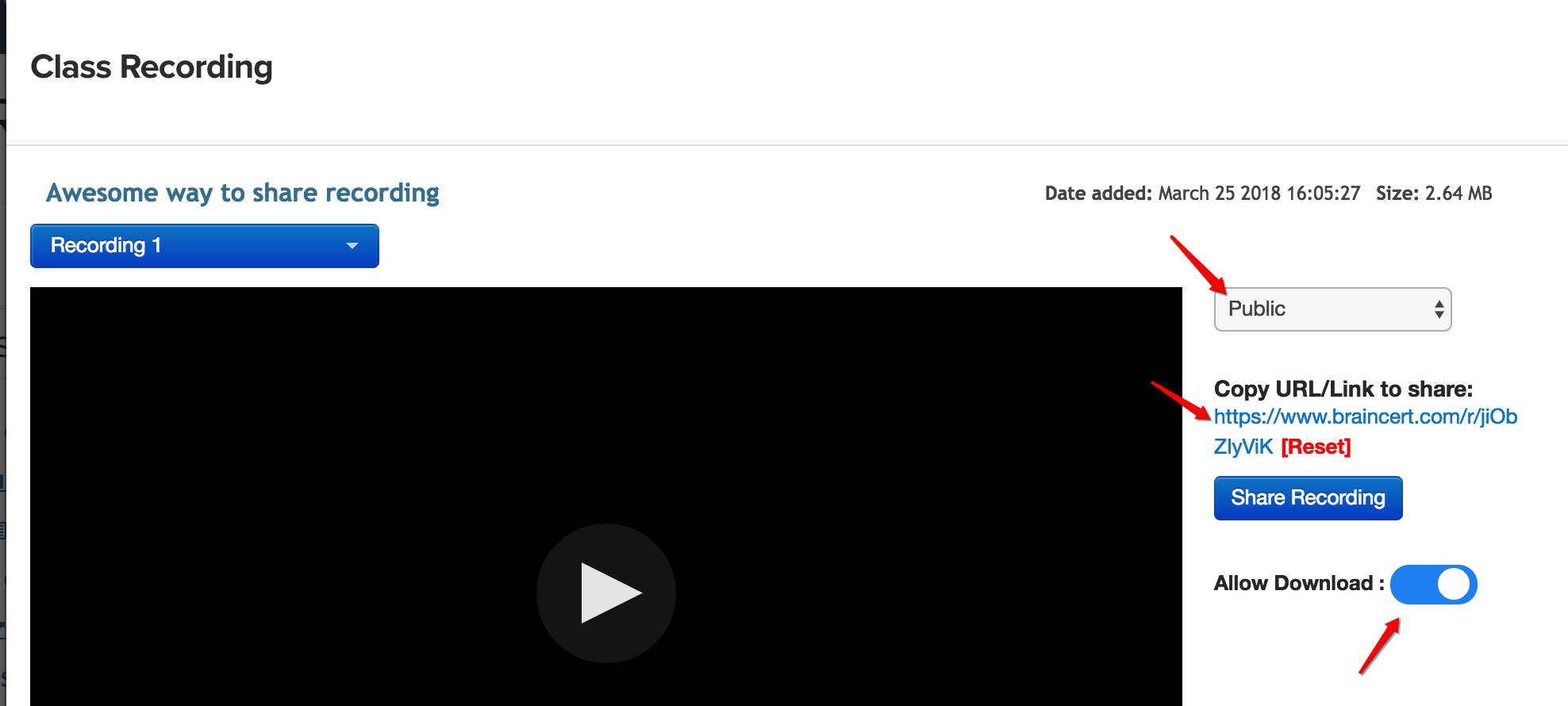 Click "Share Recording" option and enter email addresses one per line and customize the template to send our emails with the share URL.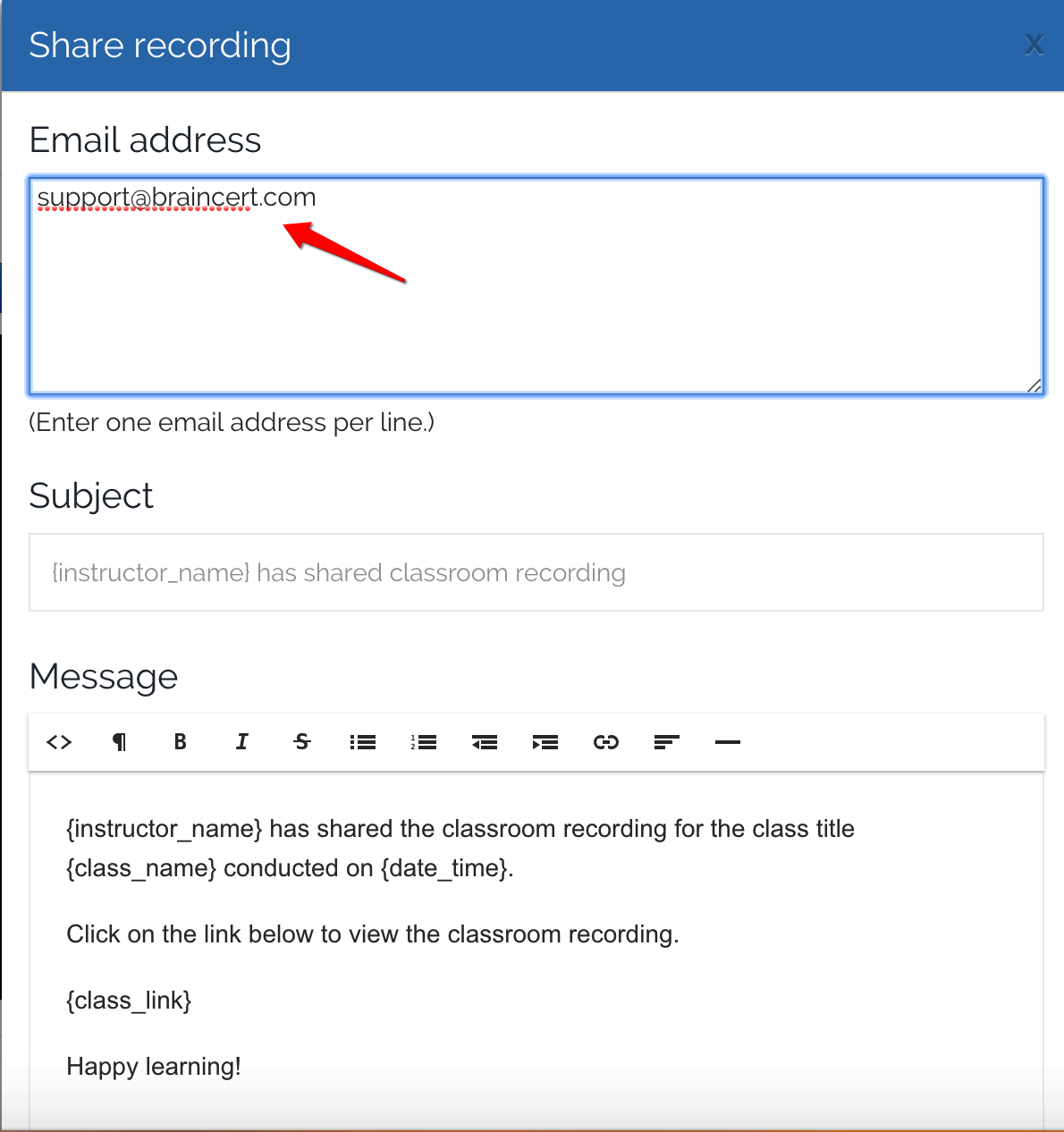 Accessing recording using the secure URL
Simply click on the link received to open it in the browser to play or download the file. No login or BrainCert user account is necessary. Furthermore, Enterprise LMS customers can enjoy the white-labeling power to share it under their own domain name and brand.