We've documented the Zoho Mail SMTP server settings for sending mail from your LMS using your Zoho email.


App Specific Password
You cannot use your email password when setting up custom SMTP server using Zoho mail. Zoho requires Application-specific passwords which are 12 character passcodes that give an app permission to access your Zoho Mail from your LMS platform.

To generate Application-specific passwords, go to https://accounts.zoho.com/u/h#security/app_password and generate the password. You can type any name such as 'LMS' that help you remember where the password is being used. This means that, you can revoke the application-specific password you generated for the LMS anytime.

Copy the password as it will not be displayed again.
SMTP Settings
Go to 'Account & Settings' and 'Mail relay' in your Enterprise LMS platform. Configure it as follows: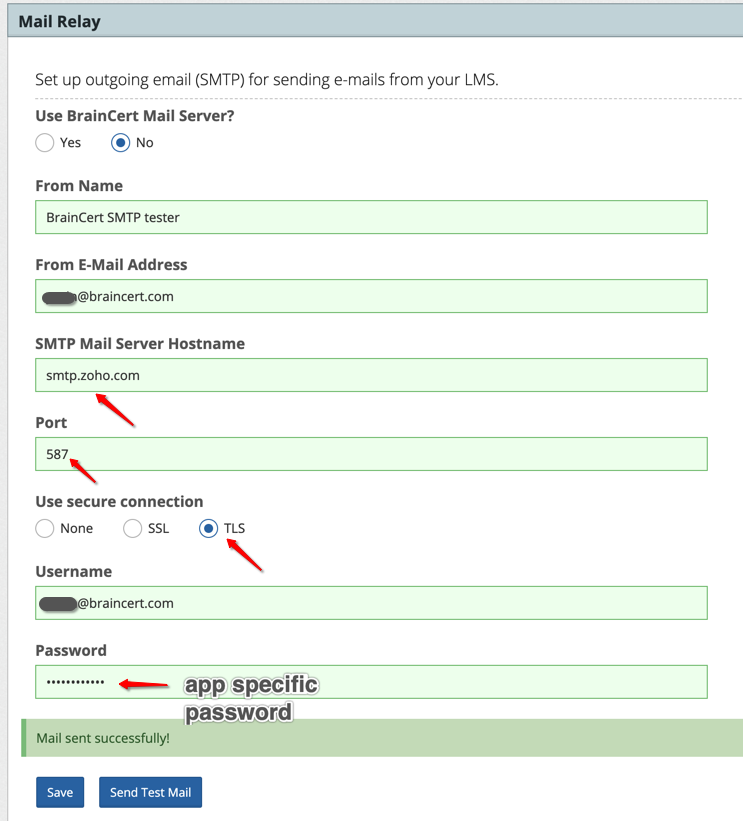 Now, click "Send Test Mail" button and confirm you see "Mail sent successfully" message. The platform will send you a test email to the same email address.

This confirms sending emails from LMS using your Zoho mail account.