Experience Unmatched Integration and Dynamic Content with BrainCert - Outperforming SamCart in Features, Support, and Affordability
Transform your learning offerings with BrainCert's all-encompassing toolkit, featuring engaging assessments, interactive virtual classrooms, and captivating gamified learning experiences, all meticulously crafted to inspire and empower learners like never before.
Why BrainCert Over Samcart
Robust Features
BrainCert offers an extensive arsenal of features, including the ability to craft courses, monetize course sales, conduct live classes, and administer exams. Samcart offers fewer features for live courses and assessments but focuses more on creating and selling courses.
Virtual Classroom
BrainCert provides a seamlessly integrated virtual classroom, equipped with a diverse range of tools for hosting interactive webinars and live sessions. In contrast, Samcart lacks these essential features, limiting your ability to connect and engage with your audience in real-time.
Exam & Assessment Tools
BrainCert boasts an extensive array of assessment tools, including advanced scoring algorithms, question analysis, flexible delivery settings, diverse question types, and customizable rules. Employ these flexible features for online proctored exams, quizzes, and surveys.
Compare BrainCert and Samcart
Starting price for paid plans
$39/month (billed annually)
$39/month (billed annually)
$5 fee per course sale on the Starter plan, no transaction fees on the higher plans
Integrated Virtual Classroom
Site Builder & Landing Pages
Centralized content library
Yes, Manage all your content from a single universal content library and organize them into different folders.
No (Content is specific to each course. No support for centralized content library to reuse same content in multiple courses)
Email Notifications & Triggers
Custom Registration Fields
Courses
BrainCert delivers a state-of-the-art course platform, empowering you to create immersive and interactive learning experiences. Our platform boasts advanced features such as live classes, gamification and assessments, enabling you to craft engaging courses that cater to diverse learning styles. On the other hand, Samcart is notably more limited in terms of features and functionality, constraining your potential to deliver truly dynamic and enriching educational content.
Advanced Zoom Integration
BrainCert excels in offering a robust selection of advanced assessment features, setting it apart from Samcart's more limited capabilities. Alongside standard question formats such as multiple-choice, true/false, and short answer questions, BrainCert raises the bar by incorporating more complex question types, including essays, scenarios, and drag-and-drop exercises, as well as an advanced adaptive scoring algorithm. This unparalleled versatility empowers you to design varied and engaging assessments that appeal to different learning styles, showcasing BrainCert's superior commitment to a comprehensive educational experience.
3 Scoring Algorithms (Adaptive, Standard & Partial-Credit)
Test completion certificates
Manual & Automatic Scoring
Open & Close Ended Questions
Reports & Analytics
While both BrainCert and Samcart provide reporting and analysis tools to help course creators monitor their students' progress and performance, BrainCert offers a more comprehensive and advanced suite of features. With BrainCert, you can track individual student progress, access in-depth reports on overall course performance, and identify trends and patterns in student performance with ease. This enhanced level of insight and analysis sets BrainCert apart from Samcart, empowering educators to make data-driven decisions and deliver a more effective and personalized learning experience.
E-Commerce
BrainCert elevates e-commerce capabilities, providing diverse monetization options for course creators. Unlike Samcart, BrainCert enables selling courses, tests, assessments, shippable products, and live classes via its integrated virtual classroom. The Unified Shopping Cart simplifies checkout, letting learners purchase digital and physical products seamlessly, while redeeming gamification points and applying discount coupons. These advanced features position BrainCert as the top choice for content monetization and delivering an outstanding learner experience.
Security & Compliance
BrainCert sets itself apart by holding both SOC2 Type 2 and ISO 27001 certifications, which Samcart lacks. These certifications demonstrate BrainCert's unwavering commitment to data security, privacy, availability, processing integrity, confidentiality, and overall security posture. You can trust BrainCert to protect your valuable information with the highest standards in the industry.
BrainCert Virtual Classroom
Samcart lacks an integrated virtual classroom, a feature that comes standard with the BrainCert platform. BrainCert's virtual classroom boasts a wide array of capabilities, including multiple whiteboards, audio/video conferencing, simultaneous screen sharing, document viewer, chat, and a 16:9 aspect ratio that adapts to the dimensions of the user's device. This ensures an optimal learning experience across various screen sizes.
BrainCert's virtual classroom is a better option for those in need of more advanced features and greater flexibility.
Worldwide datacenter locations
Multiple classroom layouts
BrainCert: The Superior Choice for Your Online Learning Needs
Choose BrainCert for a more comprehensive, secure, and customizable online learning solution that exceeds the capabilities of Samcart.
BrainCert outshines Samcart by offering a more extensive range of features tailored to the needs of various users, from individual instructors, entrepreneurs, and coaches to SMBs and mid-size enterprises. BrainCert caters to a diverse array of industries and use cases, ensuring that our platform is versatile and adaptable.
In addition to its comprehensive feature set, BrainCert holds SOC2 Type 2 and ISO 27001 certifications, which Samcart lacks. This means you can trust BrainCert to safeguard your data security, privacy, availability, processing integrity, confidentiality, and overall security posture. Our adherence to stringent security standards is verified annually by AICPA-approved independent auditors.
While Samcart only offers a partial white-label solution, BrainCert provides a fully customizable experience, including your own branded domain from the outset. This allows you to create a cohesive and professional online presence.
Samcart also falls short in terms of SCORM, xAPI/LRS integration, and robust assessments. In contrast, BrainCert natively supports SCORM 1.2 and 2004 4th Edition content packages, along with a wide array of tracking and reporting tools that make monitoring learners' progress and identifying areas for improvement a breeze.
How creator-friendly is the BrainCert?
BrainCert is exceptionally creator-friendly, providing an array of features and tools designed for seamless course management and delivery. Key creator-friendly features include:
A user-friendly interface
BrainCert's user-friendly and intuitive interface streamlines course management and delivery, allowing creators to focus on delivering exceptional content with ease.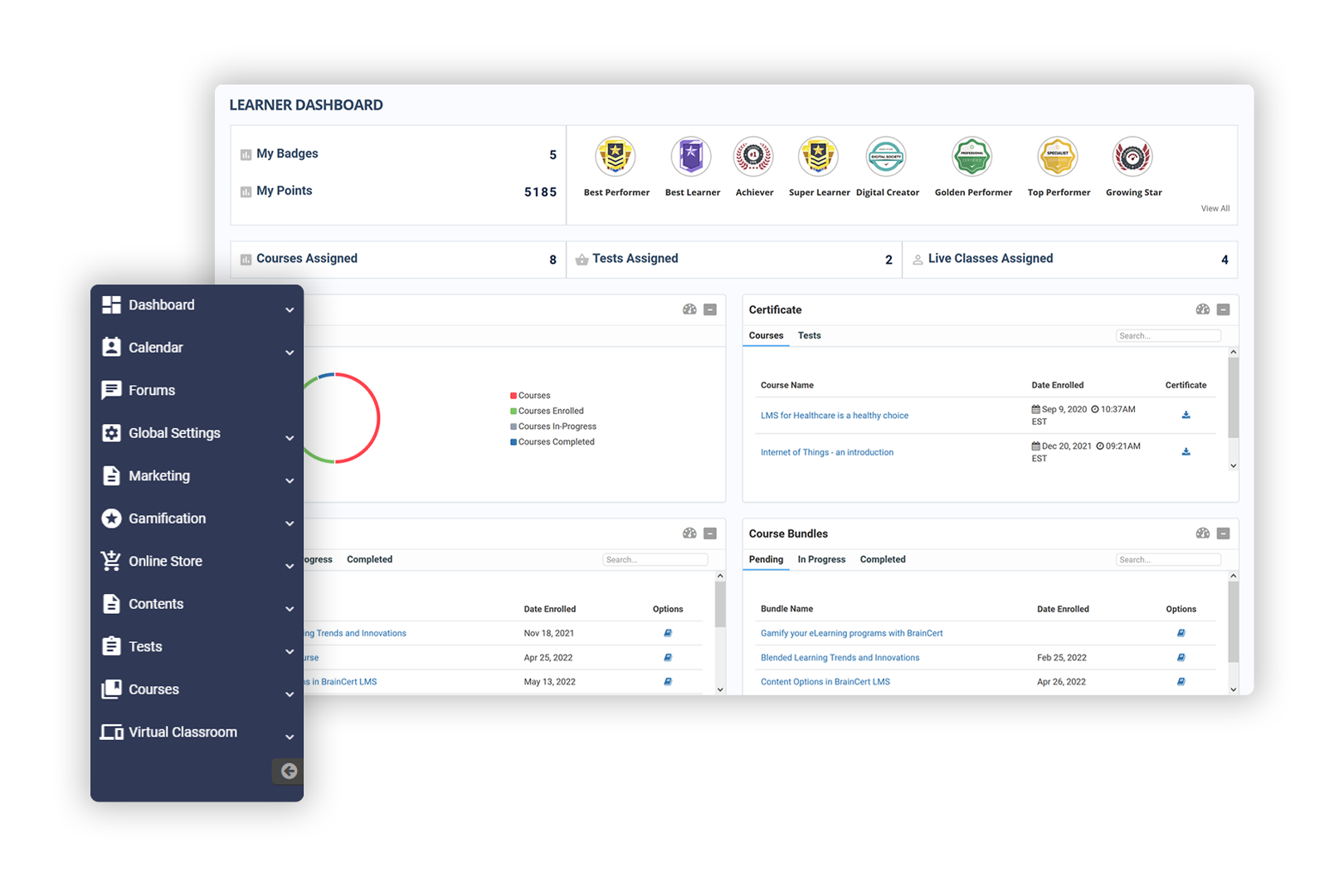 Advanced exam and assessment tools
BrainCert provides an extensive selection of advanced quizzes and assessments, empowering course creators to effectively evaluate their students' comprehension and mastery of the material.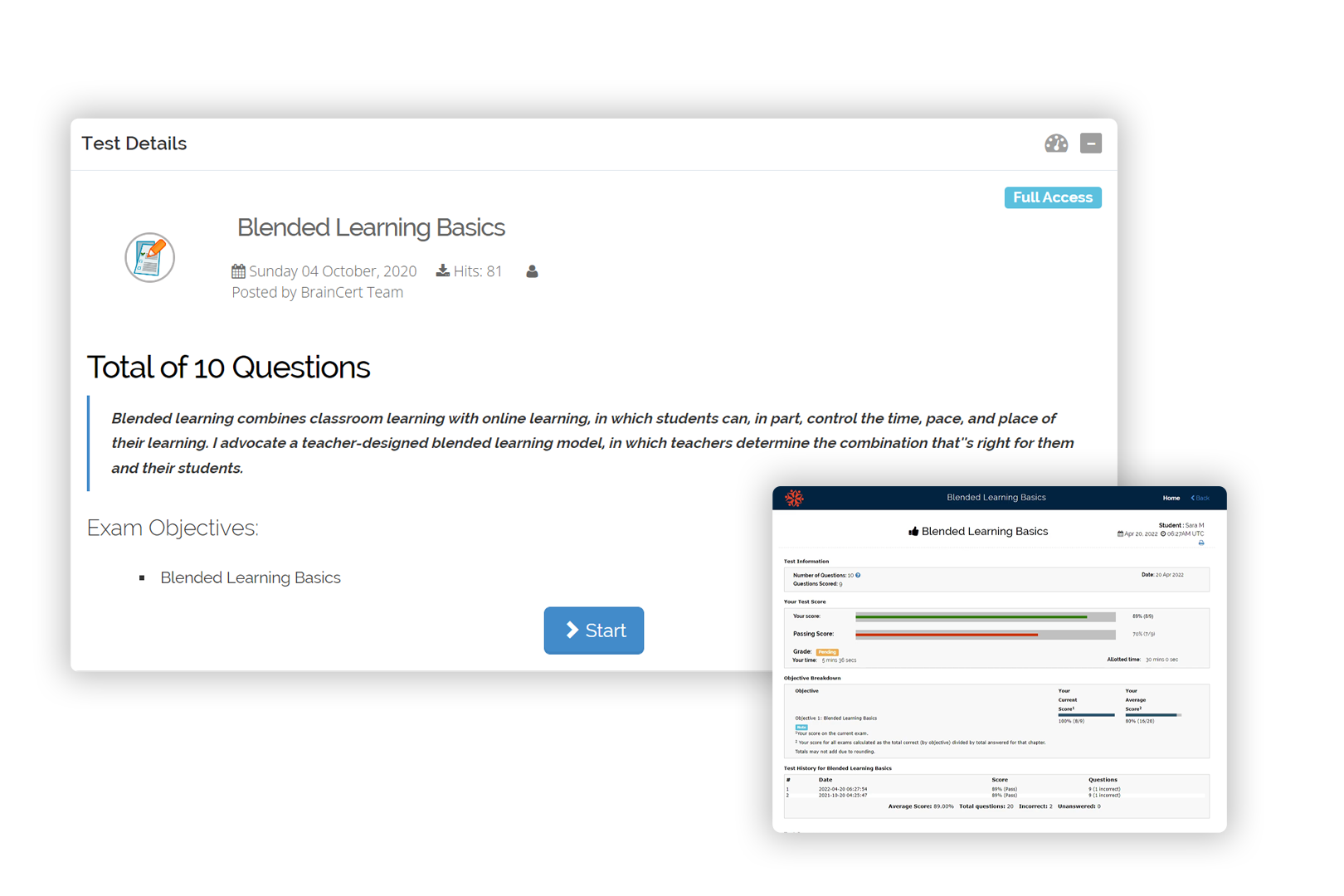 Live tutoring and webinars
With a strong focus on promoting collaborative learning, BrainCert offers comprehensive tools for creating and delivering live tutoring and webinars, empowering course creators to engage their learners in real-time.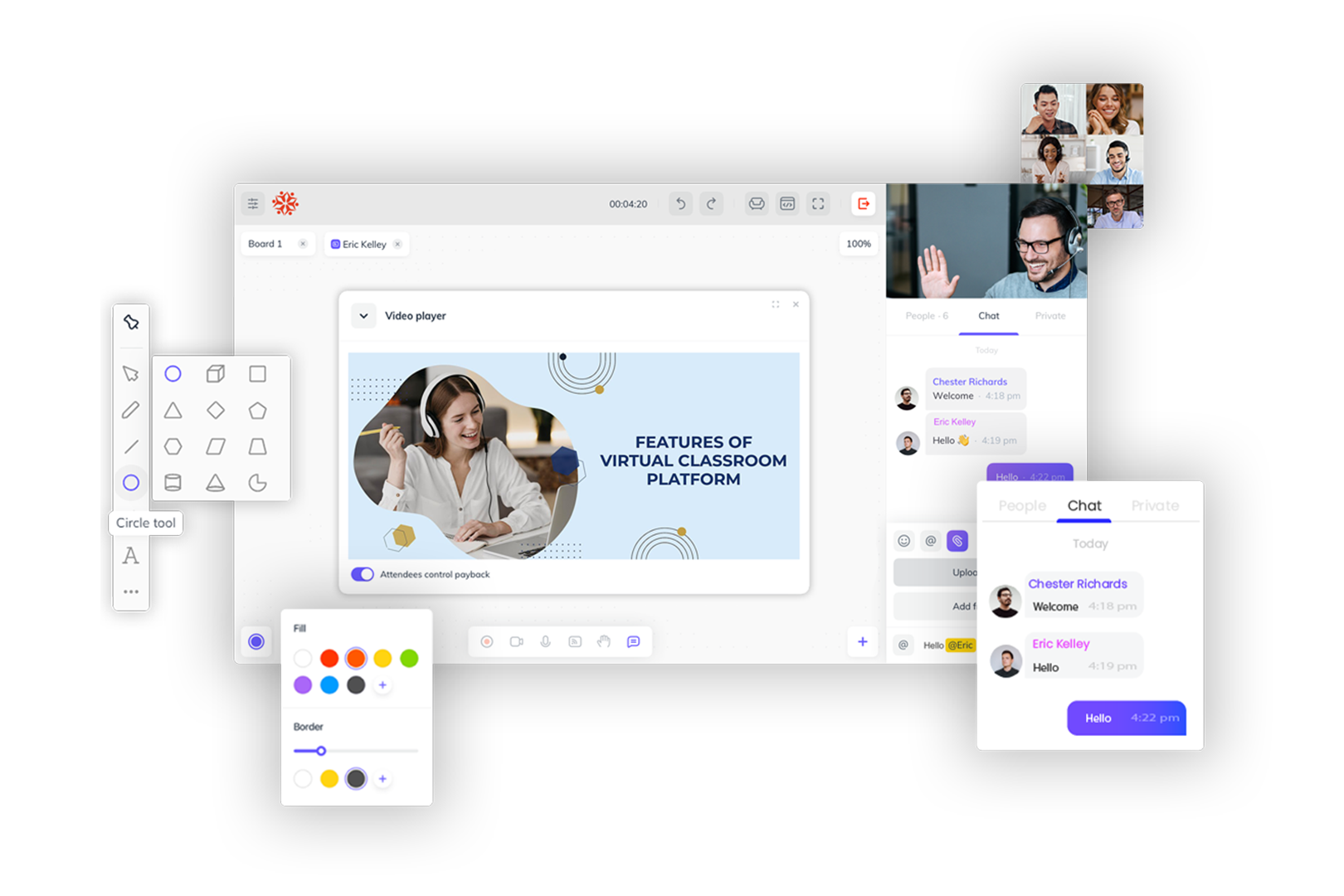 Built-in Virtual Classroom
High Quality Voice Over IP (VoIP)

Worldwide Datacenter Locations

256-bit

Strong Encryption

Session Recording & Playback

Wolfram|

Alpha Integration

Export Whiteboard Content

Concatenate

Recorded

Files
Testimonial
What They Say About Us
Pleasantly Pleased by this LMS -
PROS Affordable LMS for small company Responsive customer service Have the ability to use Stripe or Paypal Easy to provide discount codes for courses BrainCert Virtual Classroom -
We are conducting small group classes for wide variety of subjects through HTML Virtual Classroom. This software allow us to create a virtual group class environment very easily. PROS compact...all in one solution. Video conferencing, screen sharing break rooms, whiteboard and lot more features make it suitable for a wide variety of classes.
Best platform for the teachers,quite…

Love the timer of the platform. It lets students and our team to organize better.
Very robust and highly customizable LMS

I am a big fan of the extend of customization possible in BrainCert LMS. The platform lets us easily set learning paths for our learners, track strengths & weaknesses, and measure learning outcome. Also, the built-in virtual classroom platform with recording features was an added advantage for us.
Get Started With Your Free BrainCert Account Today
Join 100k+ Creators Delivering Engaging Learning Experiences!
Become a part of the expanding community of course creators, and deliver
captivating learning experiences.
Free 14-day trial

No credit card required

Support 24/7

Cancel anytime